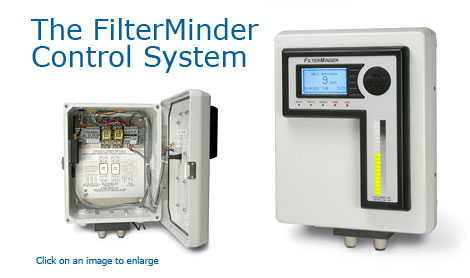 The FilterMinder simplifies the automation of filtration management for a broad variety of swimming pools, fountains, aquariums and other aquatic environments. This self contained control system integrates the Electronic Controller, MultiPort Valve, Pump and Heater control relays and power transformer that formerly required separate enclosures and resulted in additional field wiring.
The FilterMinder Electronic Controller manages all relay and valve sequencing required to perform automated backwash operations on up to six filters. Backwash operations can be initiated automatically based on elapsed time, filter inlet pressure (with optional pressure sensor), differential pressure (with optional differential pressure switch), manually from the keypad on the front of the enclosure or remotely (with optional remote access package).
The included Stark Multiport Valve provides control ports for up to six external diaphragm actuated three way valves to manipulate flows to accomplish backwash operations. Valve shift times can be adjusted to accommodate any size valve. A pressure regulator and gauge are provided to regulate primary water supply.
Three double pole/double throw 10 Amp 240 Volt relays mounted in sockets within the enclosure provide connections for pool circulation pump, heater, chemical feed systems and priority valve (if required) to manage flow disruptions during filter backwash.
A 128 by 64 pixel LCD display provides easy to understand prompts to guide the user through system setup and operation. The top level display provides real-time information on elapsed time since last backwash and either time remaining to next scheduled backwash or current filter inlet pressure (with optional pressure sensor). The backlit transflective display is easy to read in both bright sunlight and dim pump room lighting.
A 20 element Bar Graph provides an indication of filter system capacity. When the filters are newly cleaned, no bars are illuminated. As the filter system loads up with particulates, bars are lit from the bottom to the top until all are illuminated when the filter system is at full capacity. The top four bars illuminate bright red to provide a highly visible indication that a backwash cycle is required.
The Optional Remote Access Package provides password protected access from any web browser without the need to run wires to the pump room. The FilterMinder display and keypad are presented in the browser window. Simply click on the keypad to perform all operations remotely.





Product Support

The following online documents in Adobe Acrobat (PDF) format are available for viewing or download:



User's Manual
(97 KB)






Product Accessories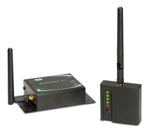 Wireless Remote Access Package for the Filterminder Control System.


Find out more...