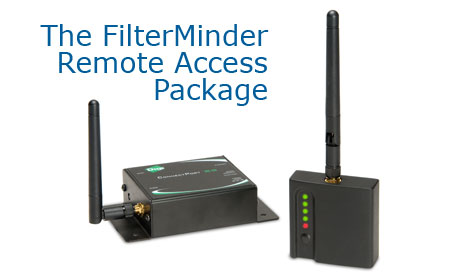 The Remote Access Package provides the ability to access the FilterMinder from any web browser. A Remote Communications Module located near the FilterMinder maintains contact with a Base Station located near an on-site host computer using spread spectrum radio communications in the 2.4 GHz ISM band. The Base Station serves up a web page of the FilterMinder front panel to any computer that has access to its Ethernet address.
The Web based interface does not require any special software on the computer and can be set up to allow access from anywhere in the world via the Internet.
Password protection prevents unauthorized access. Additional security is available through lockout switches inside the FilterMinder enclosure.
The radio link to the FilterMinder eliminates the need to run special communications cables to the pump room. Single Hop communications of up to 1 mile outdoor range or 300 feet indoor range are possible. This range can be extended indefinitely by using optional repeaters.
128-bit AES encryption provides security on the RF link.
Signal Strength and status LEDs on the Base Station and the Remote Communications Module aid in setup and troubleshooting of the RF link.
A single Base Station can support multiple FilterMinders at the same site.





Product Support

The following online documents in Adobe Acrobat (PDF) format are available for viewing or download:



User's Manual
(Coming Soon)