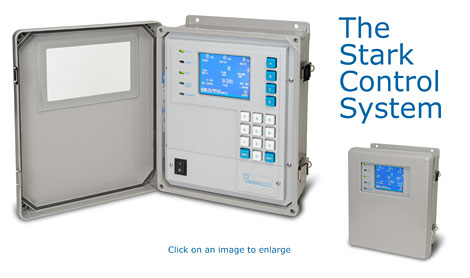 The Stark Control System brings state of the art electronic technology to the world of filtration management for swimming pools, fountains, aquariums and a other aquatic facilities. Now, with unparalleled ease of use, complex filtration operations can be defined and then executed automatically without further operator intervention. The following features provide comprehensive performance benefits for filtration system operators:
The Stark Controller combines a 16 bit Micro Computer based Controller and a dedicated Real Time Operating System to provide the flexibility and ease of use of a Personal Computer while still providing the reliability needed for industrial applications. A Watch Dog Timer built in to the hardware provides the additional robustness needed for unattended installations.
A bright 320 by 240 pixel SuperTwist LCD display provides an easy to read display of pool and filtration system parameters including influent and effluent pressures, flow rates and water temperature. Additional information presented includes pump and filter status, gallons filtered since last backwash, number of backwash operations performed since last backwash, status of next planned backwash, and time of day.
A multilayered menu structure prompts the user through system setup and operation with a dedicated "Help" key available to provide context sensitive on-line help every step of the way.
Multitasking Foreground / Background capability allows all system parameters to be accessed and changed without the need to suspend automatic operations. If desired, automatic operations can be suspended and all pump and filter functions can be controlled manually from the Stark Controller keyboard.
Battery Backup is provided on board for time related activities such as Time Of Day scheduled events to allow the system to resume gracefully in the advent of a power failure. A built in charger keeps the batteries at their peek for years of maintenance free performance.
All system parameters are stored in a non-volatile EEPROM (Electrically Erasable Programmable Read Only Memory) to provide over 10 years of data retention even with the batteries removed.
High Reliability Solid State Relays are used for all power control outputs. In addition to being easily accessible and field replaceable, each relay is individually fused and optically isolated from the load to protect all control electronics from the harsh transient voltages often found in motor control applications.





Product Support

The following online documents in Adobe Acrobat (PDF) format are available for viewing or download:



Installer's Guide
(76 KB)



User's Guide
(423 KB)



Operator's Manual
(147 KB)



Service Manual
(116 KB)